Helion is pleased to announce investment in Rabbit Track Pictures by Banijay UK
Rabbit Track Pictures is a London-based drama production company co-founded by Happy Valley, Grantchester and War & Peace star James Norton, and former head of TV for Oscar winning, Los Angeles based, Black Bear Pictures, Kitty Kaletsky. The company benefits from James's standing in the industry and their combined strong relationships with top tier talent behind and in front of the camera both in the UK and in the US.
Its first production, Rogue Agent, was a thriller released in summer 2022 on Netflix and in cinemas in the US. Starring James Norton, Gemma Arterton (The King's Man) and Shazad Latif (Star Trek Discovery), the film tells the extraordinary and chilling true story of career conman, Robert Freegard, who masqueraded as an MI5 agent.
Over three years, Rabbit Track has built an attractive slate of both TV series and films. From this, it has recently secured a returnable drama series for the BBC, as well as a limited series for ITVX.
Working together as a creative team, James and Kitty's strategy is to focus on both returnable and limited TV series with the UK's linear broadcasters, as well as international streamers and platforms, alongside selective film development, particularly where it presents an opportunity to develop new creative relationships.
The investment from Banijay UK's Growth Fund will enable Rabbit Track to strengthen its existing infrastructure, as it enters production on its first two TV series, and to invest in development in order to continue securing the best IP and talent as it drives growth.
Rabbit Track was initially backed by Great Point Media and The Development Partnership in 2020.
"We are very excited to be partnering with Banijay. In the ever-changing landscape of film and TV, we want to build a distinct and dynamic company that champions brave storytellers, who create character driven narratives, and Banijay is our perfect partner to help us achieve this. Tom and the team at Helion provided an invaluable role in helping us quantify our aspirations for our company, and in skilfully guiding us through the negotiations with our various suitors to generate a very attractive deal for us."
James Norton and Kitty Kaletsky, Co-Founders, Rabbit Track Pictures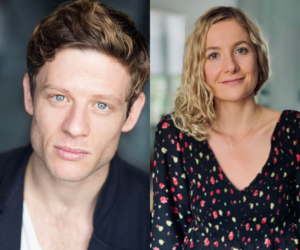 "It's great to have advised James and Kitty on this critical step for their business.  In the three years since they founded the business, they have proven their success with the commissioning of two TV series and a film with Netflix – this new investment will enable them to capitalise on their achievements by building out their team and by investing in their development slate, to drive greater success."
Tom Manwaring, Partner, Helion Partners