Founded in 2006 by Jamie Campbell and Joel Wilson, Eleven has become one of the UK's most successful and fastest growing drama production companies.
It is the creator and producer of the global Netflix hit, Sex Education, launched in January 2019. It was a Top 10 show in all key markets for the SVOD platform in 2019 (a feat achieved only by 1 other UK drama producer) and generated over 40m views in the first month alone – season 2, launched in January 2020, generated even stronger views in its first month. It has received 4 BAFTA nominations and has been recommissioned for a third season, which will soon enter production. The show launched the careers of new British creative talent including writer, Laurie Nunn, as well a string of new actors including Ncuti Gatwa (2020 BAFTA nomination), Emma Mackey and Aimee Lou Wood.
Eleven has secured further series commissions including White Stork for Netflix, a political thriller from writer Christopher Dunlop starring Tom Hiddleston as a charismatic young political candidate who is on the fast-track to becoming Prime Minister; and Red Rose for the BBC and Netflix from writing duo, Michael and Paul Clarkson, a sharp horror series following a group of young people who believe something supernatural has invaded their phones.
The company has also received BAFTA and Broadcast Award nominations for the critically acclaimed Glue on E4, and The Enfield Haunting starring Timothy Spall, Juliet Stevenson and Matthew Macfayden on Sky Living.
The business has an exciting development slate and a strong relationship with Netflix, whose business model has accelerated in recent months, leading to a strong demand for further content, which bodes well for Eleven's growth.
Sony's investment will enable to the company to accelerate its growth through a combination of greater access to US commissioners, the availability of deficit and cashflow funding to help facilitate the greenlighting of its development slate, commercial support to help it secure the best deal terms, as well as access to Sony's worldwide distribution business.
The acquisition brings to an end the Channel 4 Growth Fund's involvement in Eleven. In 2014 Channel 4 Growth Fund's minority stake investment made Eleven the first drama production company to benefit from the fund.
"We are absolutely delighted to be teaming up with Sony, particularly at this pivotal stage in Eleven's growth. Tom at Helion was central to the sale process and at every step marshalled and invigorated it with exceptional insight and skill. Completing a deal of this scale in the midst of a global crisis is no mean feat, and Tom deserves huge credit for executing collaboratively, proposing robust solutions whenever challenges arose, and ultimately leaving all parties feeling incredibly positive about the outcome."
Jamie Campbell and Joel Wilson, Founders, Eleven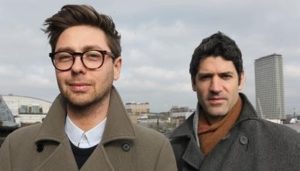 "I couldn't be more pleased to have advised Jamie, Joel and Channel 4 on this market leading transaction.  Eleven is a fantastic company at the heart of the growth of the UK drama sector, as it pivots towards the rapidly growing demand from SVOD commissioners.  As the sector struggles with the availability of the established writers and actors, in Sex Education they have created a global hit from a new writer and a largely unknown cast – a feat not to be underestimated.  This is a great calling card as they expand the business with new commissions, Red Rose and White Stork, as well as their extensive development slate. Sony is a great partner helping them open doors to new US commissioners and SVODs, ensuring they get the best commercial terms, and supporting them to fund their shows to get them off the ground. I look forward to watching them achieve even greater success in the future."
Tom Manwaring, Partner, Helion